A Fall Fashion Review
Fall officially started on September 22, but the autumn mood really shines a further into the year as pumpkins pop up around St. Paul houses, ghosts are strung up in store windows, and Halloween plans come and go as the leaves fall to the ground. In addition to the changes in decor, fall is easily recognizable in wardrobe changes. Gone are the shorts and t-shirts, replaced by jeans, hoodies, and cardigans. Coats are donned as the weather loses its summer warmth and gentle breeze. Flannels even make an appearance, and cozy sweaters become a common clothing choice. Let's review three popular fashion styles you saw this fall. 
The Open Flannel
A Pinterest favorite, flannels are a widely known fashion trend that truly shined this fall. Black, white, brown, and orange were common color choices. These were usually worn open over a basic shirt, and combined with tight jeans and a belt. If you're going with a baggy flannel, tighter bottoms make a perfect combination. For shoes, anything goes. White sneakers or ankle boots can pair well, and the only criterion is matching. This outfit is extremely customizable and can be worn for both casual and formal occasions. A comfy and common choice, this outfit is simple yet stylish.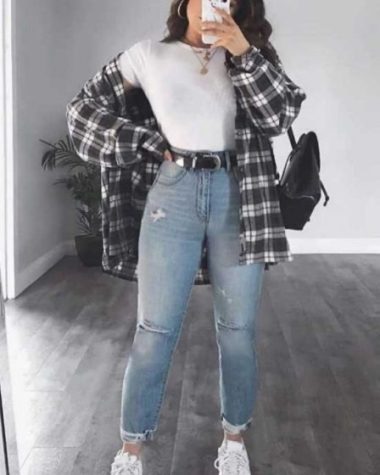 Corduroy Overall Dress
This dark academia outfit was another fashionable look. A brown corduroy overall dress is worn over a white or black sweater. Accessories are also a must-have in this look. A hat, as seen in the photo, paired with gold jewelry and tall boots is an exquisite addition. Brown or black shoes work well, and in warmer weather, a shirt could be worn instead. The overalls are also sometimes replaced with a corduroy skirt. If you choose to wear a larger, white sweater underneath, brown boots would work best. You typically want to stay within the same color palate of the outfit.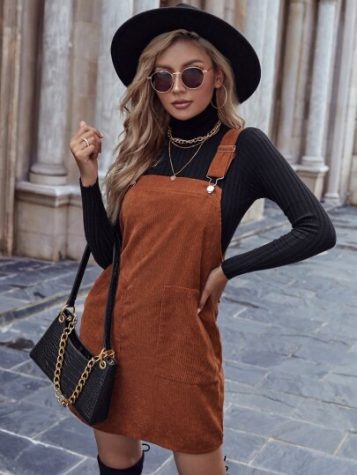 The Sweater
This one is an absolute classic. A fall tradition, this outfit was perfect for a simple everyday autumn look. A comfy sweater is tucked in mom jeans, paired with white shoes. Sweaters with stripes or patterns were common, and darker, fall tones work best. Again, we have an example of a loose top with tighter bottoms. Jewelry also works well, anything from necklaces to rings or earrings. If you're going with a lighter toned sweater, darker jeans work best. The reverse is true as well. The outfit is fairly basic, but extremely cute.