Mrs. Rosen strives to be a "Inspiration Instigator"
This year Cretin-Derham Hall has gained an incredible new social studies teacher, Tiffany Rosen. Rosen was born and raised in a small town in Wisconsin and was drawn to CDH because she feels the school's close-knit community brings her back to her small-town roots. Rosen first found out about CDH through her husband and CDH alum, Paris Rosen '99, and his father, Dan Rosen, who used to be a French teacher at CDH. Rosen knew CDH was the place for her when she used to come to visit her father-in-law.
"I was just so inspired by the building and the energy here. I knew if I ever wanted to become a teacher that this would be where I wanted to teach. It's literally a dream come true," said Rosen.
Skylar McLeod '25 is one of Rosen's students. McLeod takes college prep US history and has loved her time in Rosen's class so far. 
"Her teaching style is very easygoing and interactive, and it's a great way to have fun while learning in her classroom! My favorite activity we did was when we did a Christopher Columbus trial, which was super fun! It was a nice way to get to know some people in my class at the beginning of the school year during the project," said McLeod.
McLeod enjoys Rosen's teaching style just as much as she loves her classroom. Rosen has made a nook in her class that she calls "The Parlor." The Parlor has antique rocking chairs and couches for students to do their work in. This is one of McLeod's favorite parts of the classroom. 
"I love the parlor! She created a small space with a couch and a few chairs for students to do class work or just relax before class starts! By letting us be in there, she lets us know she trusts us, which is really comforting to feel trusted by your teachers as a student," said McLeod.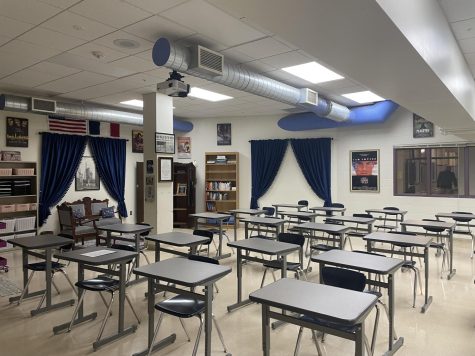 Before her teaching career, Rosen was an interior designer for 15 years. Even though she now teaches social studies, she still exercises her incredible design work in her classroom through her decor. At the end of her interior design career, she mentored a group of 15 interior designers, and realized she had found her true passion, teaching.
"I loved inspiring them, just guiding them and mentoring them," she said.
After finding her true calling, Rosen went back to school at Concordia University, graduating last year. Although Rosen has taught as a substitute teacher at Visitation, CDH is her first official teaching job, and she has loved every minute of it. 
"I love coming to school every day. I have been in a career where I didn't love showing up everyday, and now my heart is just so on fire to get these kids engaged and make personal connections with them," Rosen said.  
Out of the seven CDH values– community, academic, service, Catholic, leadership, equity, and diversity– Rosen feels that Catholicism is the most important. She is a Christian to her core and strives to implement her joy and love for Jesus in her teaching as well.
"Any type of Christian mission and leadership you can instill in your students so that it becomes important to them and they can spread the joy of Jesus is awesome. The output of instilling Jesus is centrifugal," said Rosen.
Rosen is constantly looking for opportunities to bring real-life skills into her teaching of social studies. She chose to teach social studies because she believes it is important to understand why the world is the way it is, and history plays a big role in understanding our past. 
"History informs the present and hopefully inspires us to create a more optimistic and unified future journey," said Rosen.
Rosen's biggest goal this year is to inspire students to find what they love to do. She hopes to inspire them to be themselves and find whatever sets their hearts on fire. She strives to get students excited about life and their futures so they can do amazing things and march to the beat of their own drum. 
Rosen has picked two words to describe her role this year: "Inspiration Instigator"