The Majesty of Sufjan Stevens' ​The Ascension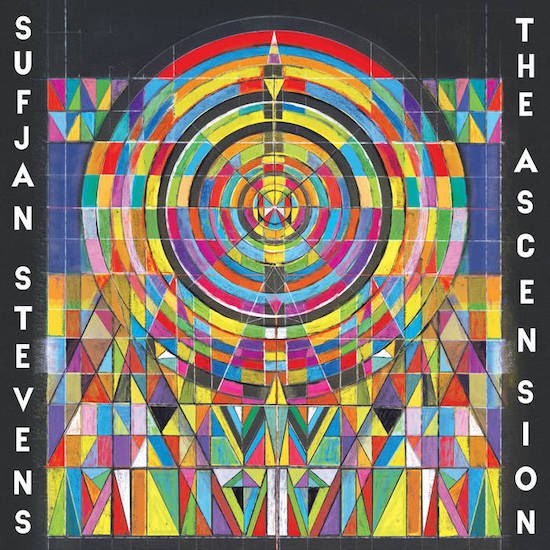 On September 25th of this year, musician Sufjan (sue-fee-on) Stevens released "​The Ascension​", the album that is my favorite work of his yet. It is absolutely a pessimists' lamentings on the state of the world, the state of life, and the state of the afterlife, but it is ultimately a narrative in which I have found myself happy to indulge.
Sufjan recently moved out of New York City and into the mountains of upstate New York. In an interview with The Guardian, Sufjan regarded the move as a "total transformation" of perspective, and said that he is "more of a naturalist." This all made sense to me, given Sufjan's childhoods spent in rural Michigan and the gentle folk music that he has been releasing steadily throughout his career. This being said, Sufjan threw us all for a loop upon the release of "The Ascension​", which ended up being a techno pop album of fiery language and seething criticisms—all while preserving the gentleness of Sufjan's delivery. It is the juxtaposition of all juxtapositions.
Despite the surprising nature of "​The Ascension​", Sufjan's intrapersonal and less modern ways remain familiar throughout the day to day. Sufjan has always shown disdain for the modern practice of presenting a person on a pedestal— social media makes him sick and he hated every minute he had to spend performing at the 2018 Oscars. Listeners of Sufjan's work do not get the ever present internet personality that is becoming popular for every musician, celebrity, and citizen to have. There is space between musician and listener, a divided relationship that is becoming increasingly more rare. Therefore, when Sufjan releases an album, it is an honest chronicle of pent up thoughts and a testament to the life Sufjan observes for himself. It demands attentiveness.
The writing in "​The Ascension" is hard to categorize under any one adjective. The album spans from a five minute long song that simply repeats "I wanna die happy" ("Die Happy") to the finale of the album, a 12-minute ballad with powerful instrumental breaks throughout the final lyrics: "Don't do to me what you did to America". Each track utilises Sufjan's dramatic switch from acoustic to software. It is an album that appreciates modern music technology and the classic lyricism of Sufjan.
Therefore, I present, Sufjan's greatest lyrical moments of ​The Ascension:​
"Ascension"
That everything comes from consummation 
And everything comes with consequence
And I did it all with exultation
While you did it all with hopelessness
Yes, I did it all with adoration
While you killed it off with all of your holy mess
"America"
I have worshipped, I have cried
I have put my hands in the wounds on your side
I have tasted of your blood
I have choked on the waters, I abated the flood
I am broken, I am beat
But I will find my way like a Judas in heat
I am fortune, I am free
I'm like a fever of light in the land of opportunity
"Ascension"
When I am dead and the light leaves my breast
Nothing to be told, nothing to confess 
Let the record show what I couldn't quite confess 
For by living for myself I was living for unrest
The 80 minute album cannot be done justice by word alone, as there is so much to attribute to its greatness beyond writing. The production of the record, also done by Sufjan, should be enough persuasion to listen to "​The Ascension" in its entirety. The full experience would be to sit down and use everything you can to be present in every beautiful moment that Sufjan Stevens has created in the masterpiece that is "​The Ascension​".